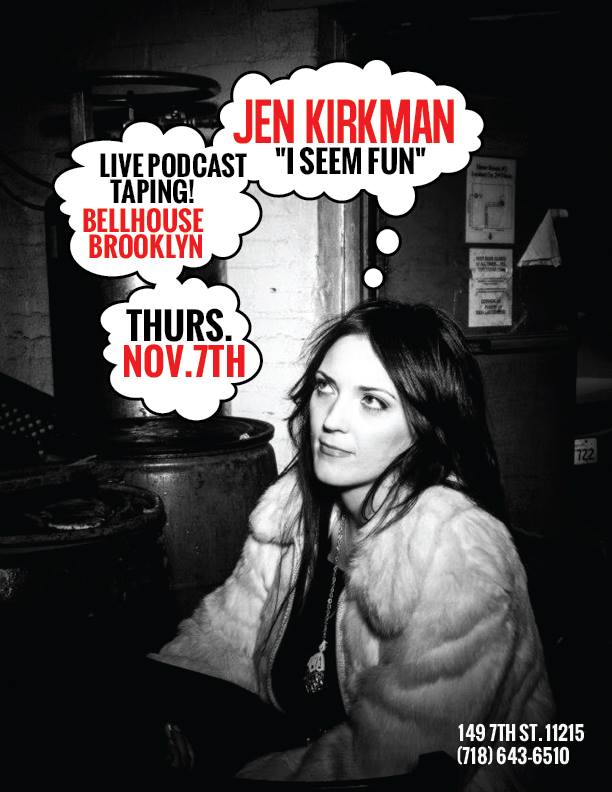 Hello Brooklyn!
I am taping and performing my podcast "I Seem Fun; The Diary of Jen Kirkman" LIVE ON STAGE for the first time ever!  I selected NYC to do this because #1 Most of my listeners live there and #2 I performed at the Bell House on my book tour in April and it was a huge hit. So, I'm hoping you'll come back.
Details are in the photos above or you can click here to buy tickets.  It's Thursday, November 7th at 8pm. (Doors 7:30pm) at the Bell House in Brooklyn.
Here's why you should:
1)  My podcast (if you haven't heard it) isn't a bunch of people on stage talking over each other.  It's just me. Sitting in my bed telling stories off of the top of my head. It's perfect to recreate live. I'll be without a net, just talking and improvising. And yes, I AM BRINGING A BED to sit on.
2)  One of the themes of my podcast is that I'm probably not that "fun" of a person - as I'm often accused by people I know - because I don't like to stay out all night or do shots or listen to popular music.  But through doing this podcast, I have received hilarious emails from people who detail their strange habits, hobbies and things they find fun that other people think is weird.  So - I will have people come up live on stage to tell their weird things.
3)  You don't need to be a regular listener to enjoy this show - it won't even seem like a podcast. It will seem like Jen doing an hour of made up stand-up.
4)  If you didn't get your book signed last April, I will happily sign it after the show.
5)  I will have a fun person at the beginning of the show to do something fun before I come out.
I hope you can make it! Tell everyone. I don't have a giant publicity train-a-coming.  And if you want to get familiar with the podcast - you can start now! Just click…..http://jenkirkman.com/i-seem-fun